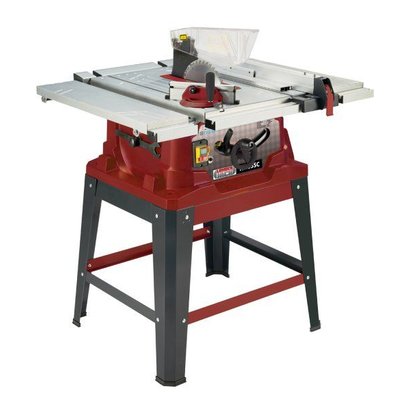 TS254SE Table Saw with 3 Table Extensions
TS254SE
Availability:

In stock

Delivery time:

1-2 days
Newly developed 254 mm Lumberjack professional saw table TS254SE with table top extensions on the sides and back. Solid saw blade guide, riving knife and laser. ...
More information
Product description
Article number:

TS254SE

Availability:

In stock

Delivery time:

1-2 days
The all new design Lumberjack 10 inch professional Table Saw comes with an a very powerful 1.500W motor, cast aluminium table top & is manufactured using only the most robust components available. Packed with an abundance of new features, this fantastic saw creates accurate longitudinal cuts in wood, fibre board, etc. & comes supplied with a top quality 40 tooth TCT precision saw blade.
This saw offers great capacity and portability and has a saw blade guard with a riving knife and laser attached.
The self-aligning professional rip fence with quick-lock handle ensures the fence is parallel with the blade for every cut. The mitre gauge allows precise angles to be cut quickly and accurately for cross cutting.
The tilt, rise and fall handles are conveniently placed and can be adjusted individually, making this saw incredibly versatile. The robust sliding table extensions to sides and rear of the machine makes working on wider & longer work pieces an easy and simple task.
The all new unique dust collection system designed for this machine encloses the blade with a robust metal housing which includes a dust port to the rear of the saw for dust /chip extractor connection and it creates a much cleaner and healthier working environment. 
The Safety Push stick provided has its own side storage, making it always within easy reach.
The TS254SE comes complete with easy to assemble leg stand for ease of use
Powerful 1.500W motor which produces 4,500rpm to ensure the saw can cut through the toughest of timber.
Large table with 3 table extensions which gives a huge cutting area & provides maximum support
Unique dust collection system
Mitre gauge allows precise angle to be cut quickly & easily
Strong and durable stand with rubber feet to provide full support and stability
Dual purpose handle: Adjusts height and bevel angle of the saw blade.
Accurate rip fence ensures the fence is parallel with the blade for every cut.
Extraction port, leaving a clean safe working environment when used with dust extractor
Cast aluminium table top
Laser line guide for accurate cuts every time
FAQ: What is the difference between the TS254SE and the TS254 ELS?
Answer: Everything on the TS254SE is heavier and more professional:
A thicker worktop, a heavier engine, firmer leg stand, better conductors, etc.
As a result, this machine is qualitatively in a higher segment. If you use the saw regularly, this purchase is definitely worth considering.
Working with this professional saw table will bring a smile to your face.
The high quality of the TS254SE will prove over and over that good tools make work easy... and fun! 
Specifications
Voltage:

230V

Power:

1500W

No Load Speed:

4500rpm

Blade:

254 x 30 x 2.8 mm, 40t

Dimensions:

645 x 455 mm

Dimensions Table with extensions:

915 x 980 mm

Table Height:

895mm

Max workpiece size:

42cm

Mitre Cut 45°/90°:

80mm

Compound Cut 45° x 45°:

55mm

Weight:

38kg