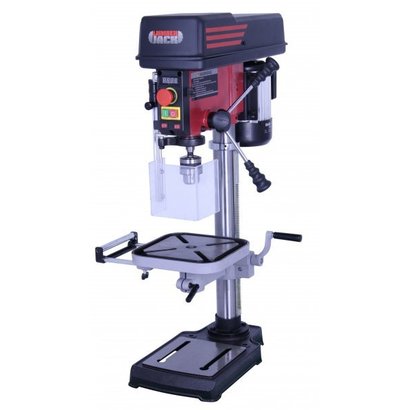 DP16-910B-VS 16mm Variable Speed Drill Press
DP16-910B-VS
Availability:

Out of stock

Delivery time:

3-4 weeks
Lumberjack DP16-910B-VS 16 mm Table Drill is the best horse from the Lumberjack stable for (semi-) professional use. With 550W induction motor, variable speed of 360-3,500 rpm, LED lamp, heavy bearings ... again top quality! ...
More information
Product description
Article number:

DP16-910B-VS

Availability:

Out of stock

Delivery time:

3-4 weeks
The Lumberjack DP16-910B-VS Professional Drill Press is robustly made of cast iron and steel.
This machine is specially made for a long life by using good materials, heavier bearings and a better engine. In addition, the speed can be set variably and digitally read.
The cover that covers the belt has a safety switch, which prevents the drill from rotating with an open hood. The machine is also equipped with an emergency switch. An LED lamp illuminates the work piece. The worktop is adjustable with a rack can also be turned away completely to use the footplate as a worktop.
A cross laser has been mounted on the machine for better accuracy. This professional machine offers a lot more than the "standard" drill presses from Lumberjack but still has compact dimensions.
Latest design in drill presses Professional Digital Speed Adjustment without changing belts
Medium sized bench pillar drill for trade use, all cast iron construction
Smooth running 550W induction motor, variable speed 360-2,500rpm
Highly accurate quill with the spindle running in ball bearings
Convenient rack and pinion table height adjustment
Fitted with cast iron feed handle with soft rubber grips and a quality 3-16mm chuck
Electrically interlocked chuck guard and LED work lamp included
Digital speed display
Cross laser
Table extension
Features include belt cover safety switch and separate emergency stop switch
This DP16-910B-VS is an ideal Drill Press for schools and garages!
Specifications
Voltage:

230V

Power:

550W

Chuck:

16mm

Drilling Capacity:

1,5 - 16mm

Variable speed:

360 - 3500rpm

Spindle travel:

90mm

Table size:

243 x 243mm

Table Tilt:

45 ° - 45 °

Dimensions (L x W x H):

460 x 280 x 910mm

Weight:

43kg