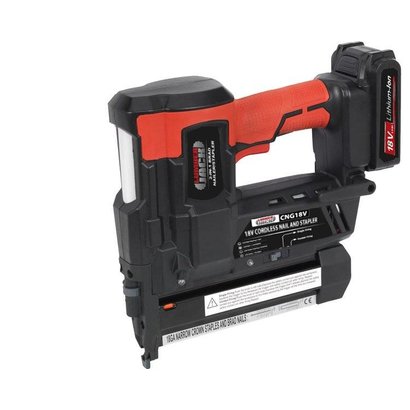 CNG18V Tacker 2.0 Ah
CNG18V
Availability:

In stock

Delivery time:

1-2 days
A professional tacker / nail and stapler gun with 18V battery for handyman, furniture maker and carpenter. Shoots 60 nails per minute, max length 50mm, staples up to 40mm. With 45 min quick charger. ...
More information
Product description
Article number:

CNG18V

Availability:

In stock

Delivery time:

1-2 days
This Lumberjack CNG18V Tacker is a powerful 1000 Watt cordless combi-tacker.
The advantage of this battery tacker is that it can handle both 'nails' / minibrads (up to 50mm) and staples (up to 40mm). The combination tacker is delivered in a case with 18V Li-Ion battery. In addition, 200x F-nails and 200x U-staples are included. With the quick charger the Li-Ion battery is charged within 45 minutes.
The depth control allows you to set yourself how deep the staples and nails / minibrads can be shot.
Some features of the CNG18V
Trigger
LED Lighting Switch
Battery Pack 18V-2Ah
Belt Hook
2 Mode Single or Contact Firing
Ergonomic Design Handle
LED Indicator
Safety Contact Pin
Depth Adjustment wheel
Cylinder
Weight of tacker incl battery: 3 kg
Do you want to work fast and well? Use this combi-tacker for door and window frames, draft strips, aluminum corner profiles, paneling, wood panels, cabinet construction, furniture and moldings.
This tacker is perfect for furniture making, wooden panels and window frames
Specifications
Voltage:

18V

Battery:

18V - 2.0 Ah Li-Ion

Charger:

230V - 1000W

Battery Charge:

45 Minutes

Firing Speed:

60 Nails/min

Max Magazine Capacity:

100 nails/staples

Max length of nails:

50mm

Max length of staples:

40mm

Dimensions (L x W x H):

285 x 274 x 96mm

Weight:

4kg