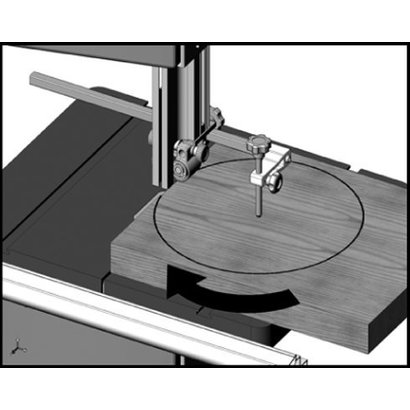 Circle Cutting Jig Accessory BSC254 for Bandsaw BS254
BSC254
Availability:

Out of stock
With this accessory you can accurately saw circles of different sizes with your band saw. The tool for sawing the PERFECT circle, rounded corners, etc. ...
More information
Product description
Article number:

BSC254

Availability:

Out of stock
Lumberjack BSC254 Circle Cutting Jig Accessory For Bandsaw 254
The New Lumberjack BSC254 circle cutting jig has been brought out after we received a huge number of requests for one.
This jig allows you to accurately and easily cut varying sized circles with your band saw. These are perfect for bowl and plate templates, decorative work or any other application, where a perfect circle is required.
As well as cutting perfect circles this jig can be used to cut uniform rounded edges, or more precise circular shaped designs.
Adjustable arm for varying sized circles
Simple design for ease of use
Fully integrates with the Lumberjack BS254
Radius range: 30-190 mm
Weight: 0.6 kg
Barcode - 5060504000185