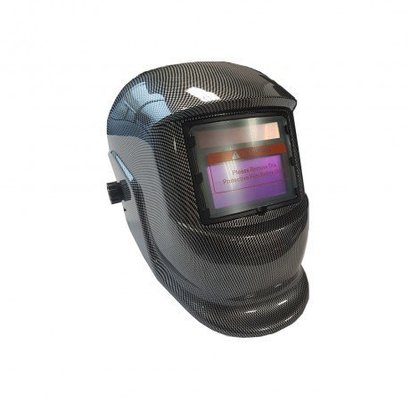 Automatic Welding helmet WT-1680-C- carbon look
WT-1680-C
Availability:

In stock

Delivery time:

1-2 days
Professional automatic dimming welding helmet. Suitable for welding such as ARC, MMA, Mig, Mag / Co2, TIG and plasma cutting. Sturdy model. At Bargain Price! ...
More information
Product description
Article number:

WT-1680-C

Availability:

In stock

Delivery time:

1-2 days
This WT-1680-C beautiful automatic dimming welding helmet / welding shield is a professional and sturdy model in carbon look from Weber Tools.
The helmet is suitable for all types of welding such as ARC, MMA, Mig, Mag / Co2, TIG and plasma cutting. This welding shield protects your face and eyes from sparks and radiation.
Self-dimming welding shield for welding with electrode, MIG, TIG etc.
Fueled by a solar cell and a lithium battery, replacement is not necessary as with ordinary batteries
Dark mode (DIN 9-13) is quick to switch with a button on the side
View window by operating the button on the side
The welding helmet switches automatically from light to dark and vice versa, this means you always have 2 hands free
You can adjust the hue yourself between DIN 9 and 13
The headband is adjustable, so the right fit is quickly found
Light weight, so no heavy helmet on your head and therefore less tiring

Specifications of the welding hood
Format display: 92 x 42 mm
Light / dark response time: 0.15ms ~ 0.2ms (from light to dark)
Dark / light reaction time: filter infinitely adjustable 0.2 - 0.8 seconds (from dark to light)
Retention time: 0.4ms ~ 0.8ms
Ultraviolet protection: <0.0003% (313nm-365nm)
Infrared protection: <0.027% (780-1300nm) <0.085% (130nm-2000nm)
Dimmer degree switched off DIN 4
Eclipse degree on the outside stepless adjustable from DIN 9 - 13
Power supply: Lithium Battery (CR2032) with solar cells back-up
Operating temperature: -5 ~ +55 ºC
Equipped with 2 sensors
CE Marking: EN: 175/379 - CSA: Z94.3 - ANSI: Z87.1
Weight: only 480 grams

If you want to effortlessly and safely work with your new welding machine, preferably our MM100 or MM130 MigMaster, we recommend this helmet wholeheartedly.