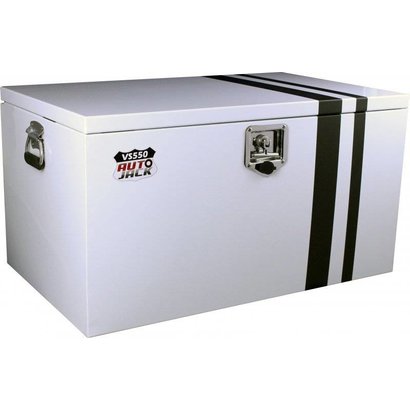 VS550 Van Safe Storage Box
VS550
Availability:

In stock

Delivery time:

1-2 days
Van Safe Storage box 92x55x49cm, 2mm thick steel, white with black stripes, Route 66 look, very durable. Also hip as a toy box, with lock and gas struts for lid ...
More information
Product description
Article number:

VS550

Availability:

In stock

Delivery time:

1-2 days
This is the big brother of the VS355: the beautiful VS550, with a dimension of 92 x 55 x 49 cm.
This tool box is also made of heavy-duty steel and is an asset to the garage, workshop and jobsite use.
Suitable for hand tools, power tools or any other equipment
Includes strong storage tray - ideal for smaller tools, equipment and compartments
2 Heavy-duty gas struts to ensure balance and steady hold of the lid no lid lock needed!
Anti tamper lip
High quality and durable rubber lining keeps moisture out of your box
Fitted with T-latch type lock for additional security of your tools
Tough and comfortable carry handle for easier transportation
Pre-drilled holes to help you fix the tool chest to your van
Finished in a white durable powder coating to prevent corrosion with black striping
Including
2 keys
Material: steel
Plate thickness: 2 mm !!
Container dimensions: 300 x 470 x 80 mm
Dimensions 920 x 550 x 490 mm
Weight 52 kg
You can of course use the box initially for tools.
But if you look further to the possibilities: as a toy box, as a 'safe' in your camper, for your diving equipment, and even as a modern blanket box in the living room.
The box has a long 'Life Cycle': This steel box can last a lifetime: The VSS550 starts its life as a toy box for your son or daughter and in 15 years it will be the toolbox. After that the box can move house to the new apartment or the work space of your kid.
The Storage Box is large and strong, made of the best steel, practical, timeless and stylish.