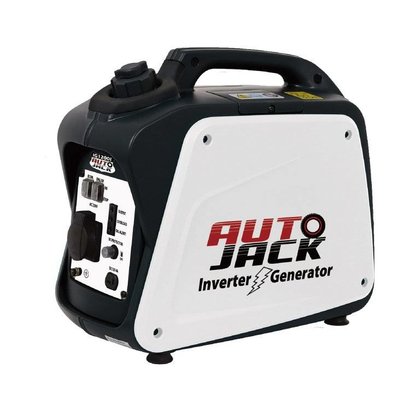 IG1200i 4 Stroke Petrol Inverter Generator 1200w
IG1200i
Availability:

Out of stock

Delivery time:

3-4 weeks
Our IG1200i inverter generator provides stable current, up to 1200W, suitable for power tools, TVs, computers and mobile phones. Electricity everywhere! ...
More information
Product description
Article number:

IG1200i

Availability:

Out of stock

Delivery time:

3-4 weeks
The Autojack Inverter IG1200i can be used anywhere and this mobile power supply is suitable for many purposes. Think of your hand tools, audio equipment and computers, TV's and DVD players.
All Autojack Generators use 'state of the art' inverter generator technology which produces a very stable voltage and frequency stability of between + or -1%.
As with the smaller brother, the IG950i, the IG1200i is equipped with an 'econo' circuit, which makes the generator run idle when little of no power is requested, so that the generator runs even more economically. The generator is also equipped with an overload protection, which guarantees a longer service life of the machine.
Very stable voltage, without voltage peaks
The service life of 1 tank, at half power, is no less than 6 hours
Provides a power of 1200 watts
Equipped with a starting pull cord
4 stroke petrol engine
Supplied with 12v battery charging facilities
Please note: Oil is NOT supplied, we recommend 10W40 Semi Synthetic Motor oil

ATTENTION: This IG1200i is currently only equipped with a UK power strip, so the use of an EU adapter for your connected equipment is necessary. This EU adapter is supplied by us (see photo).
You can connect computers and sensitive electronics to this unit.
Use the Inverter at the caravan, tent and camper, on your boat, for jobs on your car, jobs in the garden or on the street, (scouting / camping) activities in the woods, on the water, etc. The possibilities are virtually endlessly.
Specifications
Voltage:

230V

Rated Output:

1000W

Max Output:

1200W

Sockets:

13A

DC Output 12V:

4A

Engine Type:

4 Stroke Petrol

Horse Power:

4 HP

Fuel Tank Capacity:

3L

Run Time at half load:

6hrs

Dimensions (L x W x H):

480 x 255 x 425mm

Weight:

12.1kg