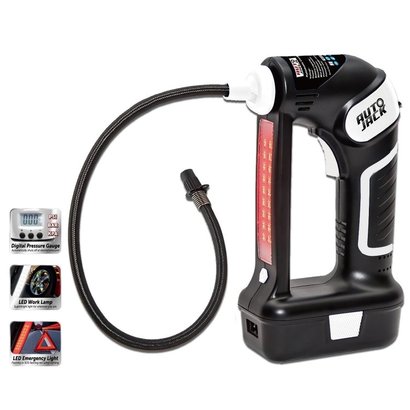 Digital Tyre Inflator Cordless Handheld Air Compressor CTI-12V
CTI-12V
Availability:

In stock

Delivery time:

1-2 days
With this portable compressor on battery, wherever you are you always have a compact and strong pump to inflate tyres (motorcycle, bicycle, car), an air bed, a ball or a toy. ...
More information
Product description
Article number:

CTI-12V

Availability:

In stock

Delivery time:

1-2 days
Cordless and portable, experience the benefit of compressed air whenever and wherever you need it to pump up car tyres, sports equipment as well as toys
Powered by a rechargeable 12V 1500mAh Lithium Ion battery that easily snaps on and off.
Comes with a car charger and regular charger
LCD digital pressure gauge display with pre-set and auto-stop features allows you to set your desired pressure and will automatically stop when that pressure has been reached
Built in LED light is great for illuminating your work space at night that can also flash a red signal as a hazard warning to other drivers for enhanced safety
More technical specifications
Voltage: 12V
Max pressure: 150 PSI
Pressure gauge accuracy: -2/+2 PSI
Battery capacity: 1500mAh
Cord length: 50cm
Max current: 8.5A
Net Weight: 1.12kg
The perfect gadget for motorist and cyclist. Use at home, on the camping, for your mobile home, air mattress, pump up your sons' football in the blink of an eye, etc.